Beef & Roasted Pepper Crostini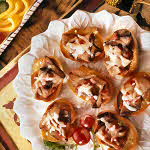 Elegant, easy appetizers.
Servings: Makes approximately 3 dozen
Prep Time: 15 minutes
Cook Time: 15 minutes

Ingredients:

• 3/4 lb. thinly sliced deli roast beef
• 3 Tbsp. olive oil
• 2 large cloves garlic, minced
• 2 loaves (8 oz. each) French bread (about 2 1/2-inch diameter), cut into 1/2-inch thick slices
• 1 jar (12 oz.) roasted red peppers, rinsed, drained, chopped
• 2 cups shredded Italian cheese blend

Instructions:
Heat oven to 450°F. In 1-cup glass measure, combine oil and garlic; microwave on HIGH 30 seconds.

Lightly brush top side of each bread slice with oil mixture; arrange on 2 baking sheets. Bake in 450°F oven 6 to 8 minutes or until light golden brown.

Layer equal amounts of beef, red peppers and cheese over toasted bread.

Return to oven; bake an additional 2 to 4 minutes or until cheese is melted. Serve immediately.

Suggestions:
Bread may be toasted ahead and stored in airtight container.
You may also substitute fully-cooled Beef Tri-Tip Roast for the deli roast beef.

Recipe courtesy of the Texas Beef Council