BACON & MUSHROOM BITE-SIZE QUICHE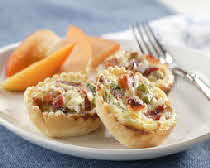 Makes 3 1/2 dozen.
Ingredients
• 8 slices bacon
• 1/4 pound fresh mushrooms, chopped
• 1 tablespoon butter
• 1/3 cup chopped green onion
• 1 2/3 cups shredded Swiss cheese
• Pastry for double-crust pie (homemade or purchased)
• 5 eggs
• 1 2/3 cups sour cream

Cooking Directions
Heat oven to 375 degrees F.

On a lightly floured board, roll out the pastry dough 1/ 16-inch thick. Using a 3-inch cutter, cut out 42 circles; re-roll scraps as needed. Fit circles into bottoms and slightly up sides of lightly greased 2 1/2-inch muffin pans.

Meanwhile, fry bacon slices until crisp, drain; crumble or chop.

Chop mushrooms, saute in butter until limp and liquid evaporates.

Combine bacon, mushrooms, green onion and cheese. Divide filling equally among muffin cups.

In large bowl, beat together eggs, add sour cream and stir until smooth. Spoon about 1 tablespoon into each muffin cup.

Bake until puffed and light brown, 20-25 minutes. Cool in pans 5 minutes; lift out.

Serve warm or let cool on wire racks.

If made ahead, wrap cooled quiches airtight, and refrigerate overnight. Reheat, uncovered, in a 350 degrees F. oven for about 10 minutes.

Serving Suggestions
Tender, cheesy and savory custards in flaky pastry shells make elegant finger food—and can be made ahead and reheated. Delicious for brunch or evening appetizers.

Nutrition Facts: Analysis done for one piece.
Calories 95 calories; Protein 3 grams; Fat 7 grams; Sodium 87 milligrams; Cholesterol 35 milligrams; Saturated Fat 3 grams; Carbohydrates 4 grams; Fiber 0 grams

Recipe & photo courtesy of National Pork Board.
For more information about The Other White Meat, visit TheOtherWhiteMeat.com