Asian Beef Nachos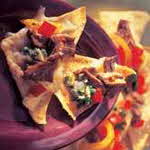 Nachos take on a new twist with this fast and easy recipe.
Servings: 8
Prep Time: 10 minutes
Cook Time: 20 minutes

Ingredients:
• 1 fully cooked boneless beef pot roast with gravy
• 1/2 package (12 to 13 oz.) wonton wrappers, cut diagonally in half
• 1/4 cup Southeast Asian peanut sauce
• 2 Tbsp. hoisin sauce
• 1 medium yellow bell pepper, cut into 1-inch long strips
• 1 Tbsp. vegetable oil
• 2 cups Monterey Jack cheese, shredded
• 1/2 cup tomato, chopped
• 1/4 cup green onion, finely chopped
• 1 Tbsp. fresh cilantro, chopped

Instructions:
Evenly space oven racks and preheat to 400°F.

Spray two large baking sheets with cooking spray. Place wonton wrappers on baking sheets in single layer. Spray wrappers with cooking spray.

Bake in 400°F oven 6 to 9 minutes, or until crisp and edges are lightly browned; switching baking sheet position in oven midway through the baking. Remove sheets to wire racks.

Meanwhile, heat beef pot roast according to package directions.

Remove pot roast from gravy; shred pot roast using 2 forks. (Gravy may be reserved for another use if desired.) Combine peanut and hoisin sauces in large bowl. Add beef, toss to coat.

Toss bell pepper with oil in small bowl. Place in shallow baking pan. Roast in 400°F oven 10 to 12 minutes or until tender and lightly browned.

Place wonton chips on two microwave-safe dinner plates. Sprinkle evenly with cheese; top with beef.

Microwave each plate on HIGH 1/2 to 2 minutes, or until beef is hot and cheese is melted. Sprinkle with bell pepper, tomato, green onions and cilantro. Serve immediately.

Tips:
Wonton chips may be prepared one day ahead; seal in sealable plastic bag. Bell peppers may be roasted one day ahead; refrigerate, covered.

Recipe courtesy of the Texas Beef Council