Asparagus Beef Bundles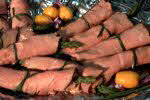 An easy, yet elegant, start to a great meal.
Servings: Makes approximately 25 appetizer
Prep Time: 20 minutes

Ingredients:
• 1 lb. medium rare deli roast beef, thinly sliced
• 25 thin asparagus spears, cut into 3-inch lengths
• 3/4 cup cream cheese
• 1 1/2 Tbsp. horseradish
• 1 Tbsp. parsley, finely chopped
• 1 Tbsp. chives, finely chopped

Instructions:
Drop asparagus spears into boiling water for 2 minutes. Do not overcook. Cool in ice water bath.

Combine cream cheese, parsley, chives and horseradish.

Lay thinly sliced beef on waxed paper. Spread each slice with cream cheese mixture.

Place one asparagus spear on each slice so tip is exposed.

Roll each slice and tie with chive sprig. Cover and chill before serving.

Suggestions:
These appetizers can be prepared the day before and refrigerated until ready to serve. Use 1/3 less fat cream cheese to save additional fat and calories. Try one of the flavored type of roast beef, like Cajun style, peppered, salsa or mesquite.

Recipe courtesy of the Texas Beef Council