GRILLED PORK, COUSCOUS AND DRIED CHERRY SALAD WITH CITRUS VINAIGRETTE
Serves four.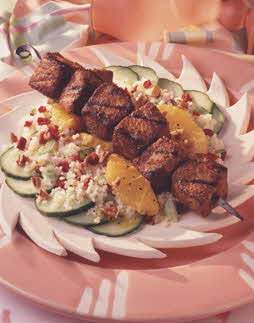 • 2 boneless pork chops, 4-ounce, cut into 3/4-inch cubes
• 1 teaspoon ground cumin
• 1/2 teaspoon ground ginger
• 1/2 teaspoon allspice
• 1/2 teaspoon garlic powder
• 1/4 teaspoon cayenne
• 1 1/3 cups couscous
• 2 cups boiling water
• 1/2 teaspoon salt
• 1/2 cup dried cherries
• 4 green onions, sliced
• 2 oranges, peeled and sliced
• 1 medium cucumber, sliced thinly
• 4 tablespoons olive oil
• 2 tablespoons orange juice
• Zest of one orange
• 1 1/2 teaspoons brown sugar
• Salt and pepper, to taste
• 2 tablespoons chopped pecans


Cooking Directions
Combine cumin, ginger, allspice, garlic powder and cayenne and rub mixture over pork cubes.

Skewer cubes and grill over hot coals for 8-10 minutes, turning occasionally. Set aside.

Meanwhile, in large bowl cover couscous with boiling water seasoned with 1/2 teaspoon salt; cover and let rest 5 minutes.

Stir cherries and onion into couscous.

Arrange cucumber around the edge of serving platter; arrange couscous mixture in center, top with orange slices and pork cubes.

In small bowl stir together olive oil, orange juice, zest, brown sugar, salt and pepper; drizzle over salad; garnish with pecans.

Wine suggestion: Pour a chilled rose or vin gris wine.

Serving Suggestions
Grilled pork and couscous with a dried cherry and citrus vinaigrette is the focus of a one-dish summer supper. Serve with grilled garlic bread.
Nutrition Facts
Calories 560 calories; Protein 23 grams; Fat 20 grams; Sodium 30 milligrams; Cholesterol 30 milligrams; Saturated Fat 3 grams; Carbohydrates 78 grams
Recipe and photo courtesy of National Pork Board.
For more information about The Other White Meat, visit TheOtherWhiteMeat.com