PAN SEARED CAESAR BEEF AND POTATO SALAD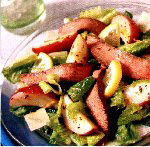 A 2001 National Beef Cookoff finalist recipe.
Servings: Serves 4
Prep Time: 10 minutes
Refrigerate: 30-60 minutes
Cook Time: 15 minutes

Ingredients:
~ 4 boneless beef chuck top blade or chuck eye steaks, cut 3/4 inch think
~ 1 cup prepared non-creamy Caesar dressing, divided
~ 1½ lbs. small unpeeled round red potatoes (about 1½ inch diameter)
~ 1/2 small lemon
~ salt and pepper
~ 1 package (10 ounces) torn romaine lettuce hearts
~ shaved Parmesan cheese
~ lemon wedges, for garnish

Instructions:
Place beef steaks and 1/2 cup dressing in food-safe, sealable plastic bag; turn to coat.

Marinate in refrigerator 30 to 60 minutes.

Place potatoes in microwave-safe dish with 1/4 cup water. Cover; microwave on HIGH 7 to 10 minutes or until tender, stirring once.

Meanwhile grate 1/2 tsp. lemon peel and squeeze juice from lemon. Cool potatoes slightly; cut lengthwise into quarters.

Combine potatoes, lemon juice and peel in medium bowl. Add 1/4 cup dressing, salt and pepper, toss.

Remove steaks and discard marinade.

Heat large nonstick skillet over medium heat until hot. Place steaks in skillet; cook top blade steaks 10 to 12 minutes for medium rare to medium doneness, turning once.

Remove from skillet; let rest 5 minutes. Carve steaks into 1/4-inch thick slices (removing tough connective tissue from center of steaks.) Season with salt and pepper.

Combine lettuce and 1/4 cup dressing in large bowl; toss.

Place lettuce on platter; top with beef and potatoes. Sprinkle with cheese. Garnish with lemon wedges.

Recipe courtesy of Texas Beef Council