GRILLED BEEF COBB SALAD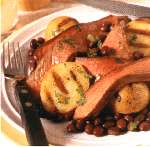 A beefy version of everyone's favorite salad.
Prep Time: 30 minutes
Refrigerate: 15 minutes to 2 hours
Cook Time: 15 minutes
Servings: Serves 4

Ingredients:
~ 3 beef shoulder top blade steaks (flat iron) (about 8 oz. each)
~ 1/3 cup drained oil-packed sun-dried tomatoes with herbs
~ 3/4 cup prepared blue cheese dressing
~ 1/4 tsp. pepper
~ 4 slices ready-to-serve bacon
~ 1 package (10 oz.) mixed salad greens-about 8 cups
~ 2 medium avocados, diced
~ 3/4 cup grape tomatoes, cut in half
~ 2 hard cooked eggs, coarsely chopped
Marinade:
~ 1/3 cup sun-dried tomato oil
~ 2 Tbsp. prepared blue cheese dressing

Instructions:
Combine marinade ingredients in small bowl. Place beef steaks and marinade in food-safe plastic bag; turn steaks to coat.

Close bag securely and marinate in refrigerator 15 minutes to 2 hours.

Meanwhile place sun-dried tomatoes in food processor container. Cover; process until minced.

Combine sun-dried tomatoes, 3/4 cup dressing and pepper in small bowl.

Refrigerate, covered, until ready to serve.

Remove steaks from marinade; discard marinade.

Place steaks on grid over medium, ash-covered coals.

Grill, covered, 10 to 14 minutes for medium rare to medium doneness, turning once.

Meanwhile microwave bacon on HIGH 20 to 30 seconds or until heated; break into pieces.

Carve steaks into slices. Arrange salad greens on large serving platter. Arrange steak slices, avocados, grape tomatoes, bacon pieces and eggs in rows over greens.

Serve with dressing.

Recipe courtesy of Texas Beef Council