WISCONSIN GERMAN BUTTERBALL POTATO & PEA SALAD WITH MINT DRESSING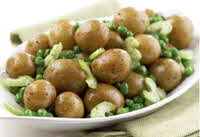 "I truly enjoy using Wisconsin's German Butterball for salads for many reasons. The fact that it does not need to be sliced due to its small size and that it is easily cut with a fork due to its thin skin makes the perfect texture for a potato salad—tender, not mushy. And its buttery, earthy flavor elevates the overall taste of the salad. The Wisconsin German Butterball has my highest recommendation for a salad potato."
Executive Chef Ulrich Koberstein, The American Club, Kohler, WI
YIELD: 4 servings
INGREDIENTS:
Salad:
• 2 lbs. Wisconsin German Butterball or other yellow-fleshed potato
• 1½ cups fresh, shelled peas or frozen
• ½ Tbsp. butter
• 2 celery stalks, nely sliced
Dressing:
• ¾ cup fresh mint
• ½ cup vegetable oil
• 1/3 cup fresh squeezed lemon juice
• 1 Tbsp. whole grain mustard
• 1 tsp. sugar
• Salt and freshly cracked pepper to taste

PROCEDURE:
For Salad:
1. Place potatoes in large pot, cover with salted water and bring to a boil.

2. When potatoes are almost cooked, add the peas and cook for 2 minutes.

3. In a colander, drain the potatoes and peas then run under cold water for a few minutes. Place in serving bowl.

4. In a sauté pan add the butter, melt. Add celery and sauté for 2 minutes. Add to potato mixture and mix.

For Dressing:
1. Place the mint and oil in blender, blend for 30 seconds.

2. Add the remaining ingredients, blend for 15 seconds.

3. Pour dressing over potato mixture and toss. Serve immediately.

NOTE: To use as a salad later do not mix in the peas until immediately before serving to keep them from losing their bright green color.

Wisconsin Potato & Vegetable Growers Association
www.wisconsinpotatoes.com