GRILLED IDAHO POTATO RATATOUILLE SALAD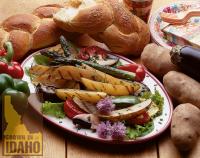 Yield: 8 servings
INGREDIENTS:
• 2 pounds large Idaho Potatoes
• 1 medium eggplant
• 1 medium zucchini
• 2 medium yellow squash
• 4 portobello mushrooms, stems removed
• 1 green bell pepper
• 1 red bell pepper
• 4 plum tomatoes, halved lengthwise
• 4 onions, peeled and halved from top to bottom
• 2 heads of garlic (optional)
• 1/2 cup olive oil
• 1/4 cup balsamic vinegar
• Salt and pepper to taste
• 2 teaspoons fresh thyme leaves or snipped chives (optional)

DIRECTIONS:
1. Wash and dry all vegetables except for onions. Cut potatoes into 1-inch thick lengthwise wedges. Steam wedges on a rack over boiling water (covered) for 10 minutes to pre-cook potatoes. Remove potatoes from steam and pat dry with paper towels.

2. Prepare remaining vegetables: cut eggplant lengthwise into 1-inch thick slices; cut zucchini and yellow squash in half lengthwise; seed and quarter green and red peppers. Place potatoes and all other vegetables on baking sheets and brush with olive oil to prevent sticking during grilling. Prepare grill.

3. When grill is ready, lightly oil the grill tray. Place eggplant, squash and mushrooms on the grill crosswise so they don't fall through the grill tray. Place the tomatoes and the peppers in a wire grilling basket or on a grilling tray suitable for small foods so they don't fall through into the grill. Place garlic heads directly on grill.

4. With the grill lid closed, grill all vegetables for 5 minutes. With tongs and a metal spatula, turn the vegetables and grill the other side, with the lid closed, for another 5-6 minutes. If all vegetables don't fit on the grill, cook in batches.

5. When vegetables are cooked, arrange on a large serving platter (slice portobello mushrooms if they're large). Halve the grilled heads of garlic crosswise, and squeeze out the soft pulp into a small bowl. Whisk together the balsamic vinegar and the garlic, then pour over the vegetables. If not using garlic, just drizzle vinegar over vegetables. Sprinkle vegetables with the fresh thyme leaves or chives, if desired. Serve salad warm or at "picnic" temperature no need to chill.

Approximate nutritional analysis per serving: 345 calories, 15 g fat, O mg cholesterol, 90 mg sodium, 7 g protein, 52 g carbohydrates
(does not include optional ingredients)
Idaho Potato Commission: www.idahopotato.com