WELSH RAREBIT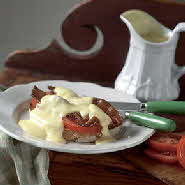 Makes 4 servings
Ingredients
• 1 large egg
• 1/4 cup beer or milk
• 1 tablespoon Cabot Salted Butter
• 1 teaspoon Dijon mustard
• Pinch ground red pepper (cayenne)
• 3 cups grated Cabot Sharp Cheddar* cheese (about 12 ounces)
• 4 thick slices hearty bread
• Optional additions: fresh tomato slices and/or crisp bacon strips
*Substitute tangy Horseradish Cheddar for part of the cheese.

Directions
1. In small bowl, whisk egg until frothy and yolk and white are completely combined; set aside.

2. In bowl set over pan of simmering water or in double boiler, combine beer or milk, butter, mustard and cayenne.

3. When butter is melted, gradually whisk in cheese and continue stirring until cheese is melted and mixture is smooth.

4. Whisk in beaten egg and continue stirring for several minutes until mixture has thickened again (do not allow it to boil or it will separate).

5. Meanwhile, toast bread. Top each toast with tomato and bacon, if desired, and spoon rarebit over the top.
Nutrition Analysis
Calories 390 , Total Fat 26g , Saturated Fat 16g , Sodium 526mg , Carbohydrates 18g , Dietary Fiber 3g , Protein 22g , Calcium 588mg

Recipe & photo courtesy of Cabot Creamery Cooperative
www.cabotcheese.com