NORTH CAROLINA PULLED PORK BBQ SANDWICHES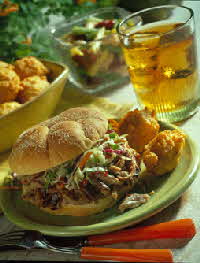 Serves 10 to 12.
• 1 5- to 5 1/2-pound boneless pork shoulder roast
• 2 cups cider vinegar
• 1/4 cup packed brown sugar
• 1 tablespoon red pepper flakes
• 1 tablespoon Worcestershire sauce
• 1 teaspoon salt
• • Hot pepper sauce, to taste
10 to 12 hamburger buns, split and toasted
• Coleslaw (optional)
• 4 cups wood chips (use hickory or oak chips for the best flavor)
Cooking Directions
BBQ Sauce:
In medium bowl, combine vinegar, brown sugar, red pepper flakes, Worcestershire sauce, salt and hot pepper sauce. Divide sauce into two portions; set aside.

Pulled Pork:
At least 1 hour before grilling, soak wood chips in enough water to cover; drain before using.
Rub meat with salt and black pepper.

In a charcoal grill with a cover, place preheated coals around a drip pan for medium indirect heat. Add 1/2 inch hot water to drip pan. Sprinkle half of the drained wood chips over the coals.

Place meat on grill rack over drip pan. Cover and grill about 4 hours or until meat is very tender. Add more preheated coals (use a hibachi or a metal chimney starter to preheat coals), wood chips and hot water every 1 to 1 1/2 hours. Remove meat from grill; cover with foil and let stand for 20-30 minutes.

Using a fork, shred meat into long, thin strands.
Pour sauce over shredded meat; toss to coat.
Serve on toasted buns.
If desired, top meat with coleslaw.
Serve remaining sauce on the side.

* Note: For gas grills, preheat and then turn off any burners directly below where the food will go. The heat circulates inside the grill, so turning the food is not necessary.

Serving Suggestions
Cooking this roast long and slow makes for a tasty, tender sandwich. Top the sandwich with some coleslaw for a crunchy, cool contrast. Have your favorite side dishes and some cold watermelon for dessert.

Nutrition Facts
Calories 397 calories; Protein 30 grams; Fat 17 grams; Sodium 572 milligrams; Cholesterol 94 milligrams; Saturated Fat 6 grams; Carbohydrates 31 grams; Fiber 2 grams
Recipe and photo courtesy of National Pork Board.
For more information about The Other White Meat, visit TheOtherWhiteMeat.com