TURKEY AND STUFFING CASSEROLE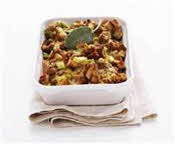 Prep time: 20 min
Cook time: 30 min
Makes: 5-6 servings

Ingredients
• 1 pkg. (14 oz.) seasoned dry stuffing mix
• 1 teaspoon ground sage
• 1 cup chopped celery
• 1/2 cup COLLEGE INN Chicken Broth
• 1 (10.75 oz.) can condensed cream of celery soup
• 1 (10.75 oz.) can condensed cream of turkey soup
• 3 cups shredded cooked chicken or turkey
• 1/4 cup melted butter

*For an easy healthy switch-out use College Inn Light and Fat Free Chicken Broth

Directions
Preheat oven to 425 degrees.

Combine the first 4 ingredients, and set aside.

Separate the 2 soups in separate bowls and add 1/2 soup can of water to each; stir these well and set aside.

Place 1/3 of the crumb mixture into a lightly greased 9x13-inch baking dish.

Layer 1/2 of the chicken/turkey and pour the celery soup over this.

Layer another 1/3 of the crumb mixture, followed by the remaining turkey.

Pour the turkey soup over and top with the remaining crumb mixture. Drizzle with butter and pack the mixture firmly into the dish.

Bake 20 to 30 minutes.