TURKEY AND RICE QUICHE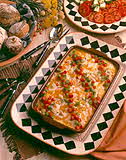 Yield: Makes 8 servings (2 triangles each)

Ingredients
• 3 cups cooked rice, cooled to room temperature
• 1½ cups cooked turkey cubes
• 3/4 cup finely diced fresh tomatoes
• 1/4 cup sliced green onions
• 1/4 cup finely diced green pepper
• 1 tablespoon chopped fresh basil
• 1/2 teaspoon seasoned salt
• 1/8 to 1/4 teaspoon ground red pepper
• 4 eggs, beaten
• 1/2 cup milk
• 3/4 cup (3 ounces) shredded Cheddar cheese
• 3/4 cup (3 ounces) shredded mozzarella cheese

Directions
Combine rice, turkey, tomatoes, onions, green pepper, basil, salt, red pepper, eggs and milk in greased 9x13-inch pan.

Top with cheeses.

Bake at 350 degrees 20 to 25 minutes or until knife inserted near center comes out clean.

To serve, cut quiche into 8 squares; cut each square diagonally into 2 triangles.

Nutrition Facts
Calories 215
Total Fat 10g
Cholesterol 144mg
Sodium 306mg
Total Carbohydrate 16g
Protein 15g

USA Rice Federation (www.usarice.com)