TURKEY PARMESAN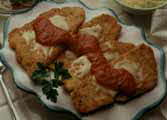 Yield: 4
Ingredients
1/3 Cup seasoned bread crumbs
1 Pound TURKEY CUTLETS
1 Tablespoon olive oil, divided
1/4 Cup grated reduced-fat mozzarella cheese
1/4 Cup prepared spaghetti sauce, heated
Parmesan cheese, (optional)

Directions
1) Place bread crumbs on plate and coat turkey thoroughly on each side with crumbs.

2) In large non-stick skillet, over medium-high heat, saute turkey in 2 teaspoons oil 2 to 3 minutes per side or until turkey is no longer pink in center; add remaining oil as needed. Sprinkle turkey with mozzarella cheese, cover skillet and heat 20 to 30 seconds or until cheese is melted.

3) To serve, arrange turkey on platter, top with sauce and if desired, garnish with Parmesan cheese.

Nutrition Facts
Calories 224; Total Fat 6g; Cholesterol 73mg; Sodium 455mg; Total Carbohydrate 10g; Protein 31g

Recipe by The National Turkey Federation www.eatturkey.com