STUFFED PORK CHOPS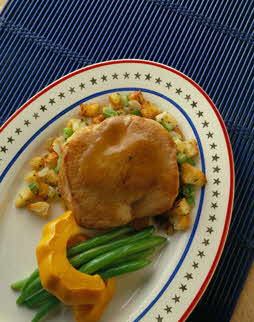 Serves 6

Ingredients
• 6 boneless pork loin chops, 2 inches thick, butterflied

• 1 teaspoon butter
• 2 onions, diced
• 2 stalks celery, diced
• 2 cups chicken broth
• 4 slices day-old bread, cut in 1/4-inch cubes
• 1/4 cup chopped parsley
• 1/2 teaspoon basil
• Salt and pepper, to taste

Cooking Directions
Melt butter in nonstick skillet over medium heat.

Saute onions and celery until transparent and soft.
Add stock, simmer gently to reduce by half.
Stir in bread, parsley, basil, salt and pepper.

Remove from heat, let cool.
Portion stuffing onto one half of each chop, fold over stuffing.

Bake in a 325 degree F. oven for 1 hour.

Serving Suggestions
Stuffed chops at their most basic. To give the stuffing more flavor, try adding chopped sage or thyme. Serve with mashed potatoes and gravy along with green beans.

Nutrition Facts
Calories 221 calories; Protein 24 grams; Fat 8 grams; Sodium 476 milligrams; Cholesterol 60 milligrams; Saturated Fat 3 grams; Carbohydrates 12 grams; Fiber 1 grams

Recipe and photo courtesy of National Pork Board. For more information about The Other White Meat, visit TheOtherWhiteMeat.com