ORANGE-SESAME PORK CHOPS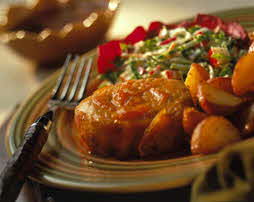 Serves 4.
Ingredients
• 4 pork chops, 3/4-inch thick
• 1/3 cup orange marmalade
• 2 tablespoons soy sauce
• 1 tablespoon rice vinegar
• 1/4 teaspoon sesame oil
• 2 teaspoons vegetable oil

Cooking Directions
In small microwavable container, blend and heat marmalade, soy sauce, rice vinegar and sesame oil for 30 to 45 seconds on HIGH until smooth; set aside.

Heat vegetable oil in 12-inch non-stick skillet over medium-high heat. Add pork chops; brown on both sides. Turn heat to low; pour orange-sesame sauce over chops, cover and simmer 6 to 8 minutes.
Serving Suggestions
This quick and easy to prepare dinner is a delicious break from routine that will get the whole family talking! Complement these sweet and sour chops with potato wedges and Slaw or your favorite vegetable.
Nutrition Facts
Calories 230 calories; Protein 16 grams; Fat 11 grams; Sodium 580 milligrams; Cholesterol 50 milligrams; Saturated Fat 3 grams; Carbohydrates 19 grams

Recipe and photo courtesy of National Pork Board. For more information about The Other White Meat, visit TheOtherWhiteMeat.com