PORTOBELLO PORK CHOPS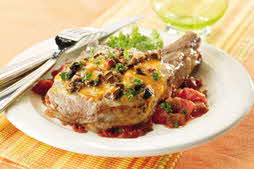 Makes 4 servings.

Ingredients
• 4 bone-in pork rib or loin chops, 3/4-inch thick
• 1½ cups mild chunky salsa
• 1 cup chopped Portobello mushrooms
• 1 cup shredded cheddar cheese
• 2 tablespoons maple syrup
• 1/4 cup snipped fresh parsley

Cooking Directions
Heat oven to 375°F. Trim fat from chops.

Spoon salsa into a 3-quart rectangular baking dish.

Arrange chops on top of salsa.

Combine Portobello mushrooms, cheddar cheese and maple syrup in a medium bowl. Spoon over chops.

Bake, uncovered, for 25 to 30 minutes.

Sprinkle with parsley. Serve chops with salsa mixture.

Serving Suggestions
Take the top prize and win over your dinnertime crowd by serving up the grand-prize-winning recipe of the "No Recipe" recipe contest by Michael Holowis of Pottstown, PA. Serve with a green salad and bread sticks.

Nutrition Facts
Calories 328 calories; Protein 31 grams; Fat 16 grams; Sodium 648 milligrams; Cholesterol 93 milligrams; Saturated Fat 8 grams; Carbohydrates 14 grams; Fiber 2 grams;

Recipe and photo courtesy of National Pork Board. For more information about The Other White Meat, visit TheOtherWhiteMeat.com