JERK PORK CHOPS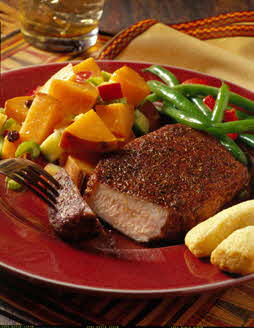 Serves 6.
• 6 4-ounce boneless center-cut loin pork chops, about 1/2-inch thick
• 1½ teaspoons ground allspice
• 3/4 teaspoons salt
• 1 teaspoon dried thyme
• 1 teaspoon ground coriander
• 1 teaspoon cinnamon
• 1 teaspoon nutmeg
• 1 teaspoon garlic powder
• 1/4 teaspoon cayenne pepper
• 2 tablespoons vegetable oil

Cooking Directions
Combine all seasonings and oil in a small bowl; mix to blend. Spread paste mixture on both sides of each pork chop. Place pork chops in a self-sealing plastic bag or baking dish and cover. Chill for several hours or overnight in refrigerator. Place chops on rack in broiler pan; broil 4 to 5 inches from heat for 5 to 6 minutes on each side, until brown and chops reach an internal temperature of 160 degrees F.

Serving Suggestions
Complement these juicy chops with fresh green beans, corn bread sticks or sweet pineapple chunks sprinkled with shredded coconut.
Nutrition Facts
Food Exchanges: 3 Lean Meat
Calories 170 calories; Protein 18 grams; Fat 10 grams; Sodium 330 milligrams; Cholesterol 50 milligrams; Saturated Fat 2 grams; Carbohydrates 2 grams

Recipe and photo courtesy of National Pork Board. For more information about The Other White Meat, visit TheOtherWhiteMeat.com