POPPY CHOPS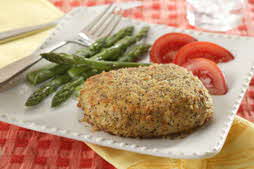 Makes 8 servings.

• 8 boneless loin pork chops, 3/4 inch thick
• 2 eggs
• 3 tablespoons water
• 1 (6 oz.) package cornbread stuffing mix
• 1/4 cup grated Asiago or Parmesan cheese
• 2 tablespoons poppy seeds
• 1/4 cup butter-flavor shortening

Cooking Directions
Beat together eggs and water in a small bowl until foamy. Pour into a shallow bowl.

Place stuffing mix in a self-sealing plastic bag; finely crush with a rolling pin.
Stir in Asiago or Parmesan cheese and poppy seeds. Transfer to a second
shallow bowl.

Trim fat from chops. Coat chops with crushed mixture. Dip into egg mixture and coat with crushed mixture again.

Heat half of the shortening in a large skillet over medium-high heat until it sizzles.
Reduce heat to medium.
Add 4 of the chops; cook for 6 minutes. Turn chops and cook about 6 minutes more or until evenly browned, reducing heat as necessary to prevent overbrowning. Transfer chops to a serving platter; cover to keep warm.
Repeat with remaining shortening and chops.

Serving Suggestions
Make guests think that you slaved over these breaded chops. This "No Recipe" recipe contest honorable mention recipe from Gerry Holcomb uses a package of cornbread stuffing mix as a shortcut to great taste.

Nutrition Facts
Calories 321 calories; Protein 26 grams; Fat 16 grams; Sodium 342 milligrams; Cholesterol 66 milligrams; Saturated Fat 5 grams; Carbohydrates 17 grams; Fiber 3 grams

Recipe and photo courtesy of National Pork Board. For more information about The Other White Meat, visit TheOtherWhiteMeat.com