PACE PORK CHOPS WITH PINEAPPLE MANGO CHIPOTLE SALSA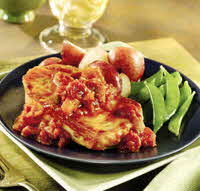 Prep: 5 minutes
Cook: 25 minutes
Makes: 4 servings

Ingredients
• 4 boneless pork chops, 3/4-inch-thick each
• 1 tablespoon ground cumin
• 1 tablespoon olive oil
• 1 jar (16 ounces) Pace® Pineapple Mango Chipotle Salsa

Directions
1. Season the pork with the cumin.

2. Heat the oil in a 12-inch skillet over medium-high heat. Add the pork and cook until it's well browned on both sides.

3. Pour 1 cup salsa over the pork. Reduce the heat to low. Cover and cook for 15 minutes or until the pork is cooked through.

Serve with the remaining salsa.

Courtesy of PaceFoods.com