SAVORY PORK CHOPS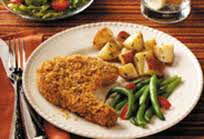 Kid friendly family dinners.
Prep Time: 5 minutes
Cook Time: 20 minutes
Makes 4 servings

Ingredients
• 1 1/3 cups FRENCH'S® Original or Cheddar French Fried Onions
• 4 (1/2-inch thick) bone-in or boneless pork chops
• 1 egg, beaten

Directions
1. Place French Fried Onions into plastic bag. Lightly crush with hands or with rolling pin.

2. Dip pork chops into beaten egg; then coat in onion crumbs. Place pork chops on baking sheet.

3. Bake at 400ºF for 20 minutes or until no longer pink in center.

Tip: Add 1/4 tsp. each garlic powder and thyme leaves to onion crumbs. Proceed as above.

Recipe & Photo courtesy of French's French Fried Onions
Look for French's Original and Cheddar French Fried Onions in the canned vegetable aisle at your favorite supermarket. For more great recipes and cooking tips from the test kitchen at French's, please visit www.frenchsfoods.com.