SOUTHERN SKILLET BBQ PORK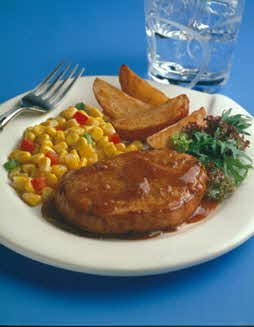 Serves 4

Ingredients
• 4 boneless pork chops, 3/8-inch thick
• 1/4 cup bottled reduced-fat Italian dressing
• 1/4 cup bottled barbecue sauce
• 1 teaspoon chili powder

Cooking Directions
Stir together Italian dressing, barbecue sauce and chili powder.

Pour over pork chops in shallow dish or plastic bag.

Marinate from 30 minutes to overnight in the refrigerator.

Heat nonstick skillet over medium-high heat; drain pork chops and place in skillet.

Brown chops on both sides; add remaining marinade.

Cover pan and simmer over medium heat for 4-5 minutes.

Serving Suggestions
A deceptively easy skillet supper delivers big flavors. Accompany this family favorite with buttered corn and a green salad.

Nutrition Facts
Calories 187 calories; Protein 22 grams; Fat 9 grams; Sodium 325 milligrams; Cholesterol 55 milligrams; Saturated Fat 2 grams; Carbohydrate 3 grams; Fiber 0 grams

Recipe and photo courtesy of National Pork Board. For more information about The Other White Meat, visit TheOtherWhiteMeat.com