RENAISSANCE CHOPS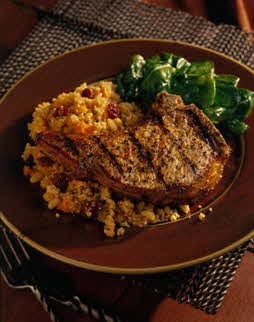 Serves 4

Ingredients
• 4 pork loin or rib chops, 3/4-to 1-inch thick
• Cooking oil spray
• 2 teaspoons dried sweet marjoram leaves
• 1/2 teaspoon lemon-pepper seasoning
• 1/4 teaspoon fine grind sea salt (or kosher salt)
• 1/2 teaspoon garlic powder

Cooking Directions
Lightly spray both sides of chops with oil.
Mix together seasonings.
Sprinkle evenly on both sides of chops.
Grill over direct heat or broil 4 to 5 inches from heat for 8 to 10 minutes.
Chops should be slightly pink in the center.

Serving Suggestions
Simple version of a basic grilled chop. Marjoram's delicate flavor of oregano gives this dish a taste of the Mediterranean. Serve with a green salad and Countryside Couscous (in side dish category).

Nutrition Facts
Calories 160 calories; Protein 25 grams; Fat 6 grams; Sodium 270 milligrams; Cholesterol 70 milligrams; Saturated Fat 2 grams; Carbohydrates 1 grams

Recipe and photo courtesy of National Pork Board. For more information about The Other White Meat, visit TheOtherWhiteMeat.com