JUST WONDERFUL LEMON-GARLIC CHOPS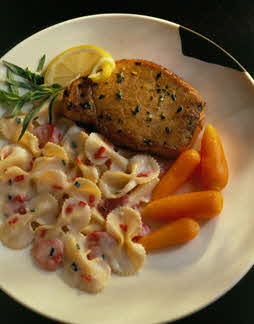 Serves 8
Ingredients
• 8 boneless pork chops, 1-inch thick
• 2/3 cup lemon juice
• 1/2 cup olive oil
• 1 jar (4½-ounce) chopped garlic
• 2 tablespoons dried tarragon, crushed
• Paprika

Cooking Directions
For marinade, in a small bowl combine lemon juice, olive oil, garlic and tarragon.

Place pork chops in a 1-gallon self-sealing plastic bag; pour marinade over chops; seal bag. Marinate in the refrigerator for 6-8 hours or overnight.

Drain chops, discarding marinade.

Place chops on rack in broiler pan so the chops are 4-5 inches from heat. Sprinkle the chops with a little paprika. Broil for 5-8 minutes or until brown. Turn chops and sprinkle with paprika. Broil for 5-8 minutes more or until chops are just done.

Serving Suggestions
Simple marinade that young chefs can help with. Serve with pasta salad and glazed baby carrots.
Nutrition Facts
Calories 183 calories; Protein 23 grams; Fat 9 grams; Sodium 48 milligrams; Cholesterol 57 milligrams; Saturated Fat 2 grams; Carbohydrates 2 grams; Fiber 0 grams

Recipe and photo courtesy of National Pork Board. For more information about The Other White Meat, visit TheOtherWhiteMeat.com