HONEY ROSEMARY STUFFED PORK CHOPS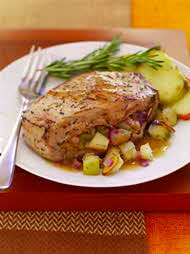 Tart apples, sweet onions and fragrant rosemary make a sophisticated and flavorful stuffing for ordinary pork chops. Serve them with sautéed kale or Swiss chard to complete the meal.
Prep Time: 20 minutes
Cook Time: 25 minutes
Makes 4 servings.

Ingredients
• 2 tablespoons olive oil, divided
• 1/2 cup chopped red onion
• 1½ cups chopped Granny Smith apples
• 3 tablespoons honey, divided
• 2 tablespoons toasted sliced almonds
• 2 teaspoons McCormick Rosemary Leaves, finely crushed, divided
• 1/2 teaspoon cider vinegar
• 1/2 teaspoon salt, divided
• 1/4 teaspoon McCormick Garlic Powder
• 4 boneless center-cut pork chops, 1-inch thick (about 1 pound)
• 1/4 teaspoon McCormick Ground Black Pepper
• 1/2 cup reduced sodium chicken broth

Directions
HEAT 1 tablespoon of the oil in large skillet on medium heat. Add onion; cook and stir 5 minutes. Add apples; cook and stir 5 minutes longer or until slightly softened. Spoon mixture into small bowl. Add 1 tablespoon of the honey, almonds, 1 teaspoon of the rosemary, vinegar, 1/4 teaspoon of the salt and garlic powder; mix well.

CUT a horizontal slit in center of each pork chop to form a pocket. Spoon 1/4 cup of the apple mixture into each pocket. Secure with toothpicks. Mix remaining 1 teaspoon rosemary, remaining 1/4 teaspoon salt and pepper. Coat pork chops evenly on both sides with rosemary mixture.

HEAT remaining 1 tablespoon oil in same skillet on medium-high heat. Add pork chops; cook 4 to 5 minutes on each side or until browned. Mix broth and remaining 2 tablespoons honey until well blended. Stir into skillet. Cook 5 minutes longer or until pork is desired doneness. Remove pork chops from skillet; keep warm. Cook mixture in skillet 3 minutes longer or until reduced by half. Remove toothpicks from pork chops. Serve pork with sauce mixture.
Nutrition Information Per One Serving: 414 Calories, Fat 22g, Protein 32g, Carbohydrates 22g, Cholesterol 87mg, Sodium 430mg, Fiber 2g

Recipe courtesy of McCormick® - Spices & Seasonings - www.mccormick.com/