SALSA CHOPS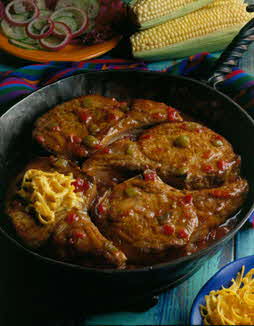 Serves 4

Ingredients
• 4 pork chops, 3/4-inch thick
• Salt and pepper, to taste
• 1 teaspoon vegetable oil
• 1½ cups salsa

Cooking Directions
Season chops with salt and pepper.

Heat oil in large nonstick skillet over medium-high heat and brown chops on one side, about 3-4 minutes.
Turn, add salsa to skillet; bring to a boil, lower heat, cover and simmer for 8-10 minutes.

Serving Suggestions
This is the quickest skillet supper in the West. Brown pork chops; simmer briefly with your favorite salsa. Top with grated Cheddar cheese and chopped fresh cilantro, and serve with corn on the cob and a tossed green salad.

Nutrition Facts
Calories 210 calories; Protein 23 grams; Fat 9 grams; Sodium 1300 milligrams; Cholesterol 70 milligrams; Saturated Fat 3 grams; Carbohydrates 6 grams

Recipe and photo courtesy of National Pork Board. For more information about The Other White Meat, visit TheOtherWhiteMeat.com