GRILLED PINEAPPLE WITH BUTTER RUM SAUCE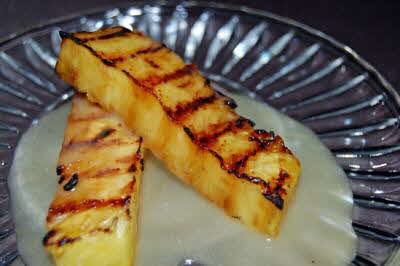 INGREDIENTS:
• 8 tablespoons (1 stick) unsalted butter
• 1 cup lightly packed brown sugar
• 1/2 cup dark rum
• Pinch of nutmeg
• Pinch of cinnamon
• Pinch of allspice
• 8 slices, 1-inch thick, fresh pineapple wedges, cored

DIRECTIONS:
1. In a small saucepan, cook the butter, sugar, rum and spices over medium heat, stirring, until the sugar is dissolved and the butter melted.

2. Bring to a simmer and let cook for about 10 min. longer, stirring occasionally, until the sauce is slightly syrupy and coats the back of a spoon. Keep warm.

3.Heat the grilland brush or spray it with a touch of oil so the pineapple doesn't stick. Grill the pineapple slices until warmed through and carmelized, about 10 min. on each side.

4. Serve immediately with the warm sauce.

Recipe and photo courtesy of Caribbean Shopping Channel www.caribbeanshoppingchannel.com