PUMPKIN PANCAKES 2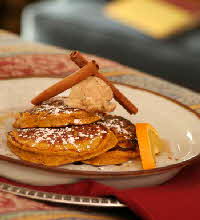 Recipe courtesy of: Woolverton Inn, Stockton, NJ


Ingredients:
• 2 2/3 cups flour
• Cinnamon, nutmeg, ginger and cloves to taste
• 2 teaspoons baking powder
• 2 teaspoons baking soda
• 1 teaspoon salt
• 8 eggs (separated)
• 2 1/2 cups buttermilk
• 1 1/2 cups pumpkin (1 15oz can)
• 1/2 cup sugar
• 1 1/2 teaspoons vanilla
• 1 stick of melted butter, slightly cooled


Directions:
Whisk together flour, spices, baking soda, baking powder and salt in a medium bowl and set aside.

With a hand mixer, whip egg whites until stiff but not dry.

Mix together buttermilk, pumpkin, sugar, vanilla and butter. Make a well in the dry ingredients and fold in buttermilk-pumpkin mixture; do not over mix.

Gently fold egg whites into batter.

Cook on a hot grill until bubbles form at the edges.

Flip and cook 2 – 3 minutes more.
Enjoy!