AUTUMN SPICED APPLE PANCAKES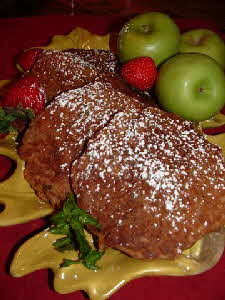 Serves 6.
Recipe courtesy of: Strawberry Creek, Idyllwild, CA


Ingredients:
• 2 cups of all-purpose flour
• 1 teaspoon baking powder
• 1/2 teaspoon baking soda
• 1 teaspoon salt
• 3 tablespoons sugar
• 1 teaspoon ground cinnamon
• 1/2 teaspoon ground ginger
• 1/2 teaspoon each of ground nutmeg and ground mace or 1 teaspoon of fresh grated nutmeg
• 1 teaspoon ground cloves
• 4 tablespoons of unsalted butter,melted
• 2 cups of buttermilk (room temperature)
• 2 large eggs (room temperature)
• 1/4 teaspoon vanilla extract
• 1 cup tart apples- grated
• 1 cup toasted pecans-chopped
• Unsalted butter for griddle


Directions:
Pre-heat griddle up to 350 degrees, or skillet to medium.

Sift dry ingredients into a bowl.

Whisk wet ingredients together in a separate bowl.

Add wet ingredients to dry ingredients and mix only until combined. Do not overmix.

Fold in apples and pecans.

Let batter sit for up to 30 minutes.

Pour a small amount (about 1 tablespoon) of butter on griddle or pan and immediately wipe with a paper towel to distribute evenly over the surface and to remove most of the butter.

Use a 2 oz (1/4 cup) ladle, ice cream scoop, o r measuring cup to pour each pancake onto the griddle surface.

Use a spatula to turn pancakes once bubbles start to form all over the pancake and the edges start to set.

Cook on the other side for another minute or so, until set and slightly browned.

Serve pancakes with maple syrup and garnish with fresh berries and/or sliced apples.