FRESH BERRY AND ORANGE CREPES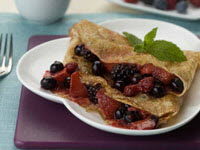 Makes 4 breakfast or dessert servings.
Ingredients
• 8 crepes, use your favorite recipe or store bought
• 3 Tablespoons butter
• 2 cups mixed fresh berries: blueberries, blackberries, raspberries, strawberries
• 2 oranges, zested and sectioned
• 1/ 4 cup sugar

Directions
Stack crepes on a plate and cover with foil. Heat in a 300 degree oven for 10 minutes along with 4 serving plates. In a large sauté pan melt butter. Add berries, orange sections, orange zest and sugar. Cover and sauté until the berries are softened and heated through and the sauce thickens, approximately 5 minutes.

To assemble, place crepe on a warm plate. In one corner of a crepe, spoon on 1/4 cup fruit mixture. Fold in 1/2 then again into 1/4. Repeat process serving two per person. Keep prepared crepes warm while assembling.

Serve with vanilla yogurt or whipped cream if desired.

Nutrients per serving:
Calories 361, calories from fat 135, fat 15 gms, saturated fat 8 gms, cholesterol 159 mg, sodium 333 mg, dietary fiber 4 gms, protein 7 gms

Photo Copyright © 2010 Chilean Fresh Fruit Association Media Center
Recipe Courtesty Chilean Fresh Fruit Association