BANANA WALNUT PANCAKES WITH FRESH FRUIT MEDLEY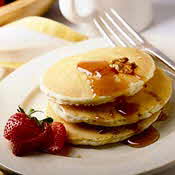 Want fresh hot delicious pancakes in half the time? Make the batter the night before!
Prep Time: 15 min
Servings: 4

Ingredients:
• 1 each: large ripe mango and papaya (OR 3 cups berries, such as blueberries, blackberries, raspberries, strawberries or sliced bananas)
• 1½ cups all purpose flour
• 2 Tbsps granulated sugar
• 1 Tbsp baking powder
• 1/4 tsp salt
• 1/2 cup mashed, ripe banana (about 1 medium)
• 1 1/3 cups nonfat milk
• 1 egg
• 1/2 cup chopped California walnuts
• Maple syrup or honey (optional)
• Oil for the griddle or skillet

Directions:
1. Peel mango then slice fruit from pit; cut into 1/2-inch chunks. Peel and halve the papaya then scrape out the seeds; cut it into 1/2-inch chunks; toss with the mango and set aside.
If using berries, rinse and pat dry with paper towels; slice strawberries and set aside to top pancakes.

2. In medium bowl, mix together flour, sugar, baking powder and salt.
In a large bowl, whisk together banana, milk, egg and walnuts.
Stir in dry ingredients just until moistened; some lumps in the batter are okay. If the batter seems too thick, add a bit more milk.

3. Heat griddle or skillet, preferably nonstick, until medium hot (a few drops of water sprinkled on it will sputter before evaporating).
Brush with a little oil. Spoon the batter onto the griddle, using about 1/4 cup per pancake.
Cook about 2 minutes, until the surface is dry and full of bubbles, then turn and cook up to 1 minute longer or until golden brown. Keep pancakes warm in low heat oven.

4. Serve pancakes hot with prepared fruit and drizzle with maple syrup or honey, if desired.
Recipe courtesy of California Walnut Board