TORTELLINI & VEGETABLE SALAD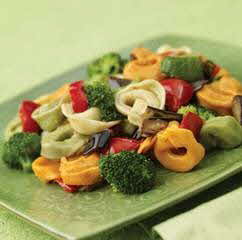 INGREDIENTS
• 2 tablespoons plus ¼ cup extra-virgin olive oil
• 1 small eggplant, cubed
• 1 small zucchini, cubed
• 1 red bell pepper, seeded and cubed
• 2 tablespoons balsamic vinegar
• 1 teaspoon dried Italian herb seasoning
• Salt and pepper
• 1 cup broccoli florets, blanched
• 1, 9-ounce package fresh cheese-filled tortellini, cooked and drained according to package directions

DIRECTIONS
• Heat 2 tablespoons oil in skillet.

• Add eggplant and zucchini and cook 5 minutes, stirring occasionally.

• Add red pepper and cook 1 minute.

• Whisk together ¼ cup oil, balsamic vinegar, Italian seasoning, salt and pepper in large bowl.

• Add tortellini, broccoli, and cooked vegetable mixture; toss well.

• Chill before serving.

* Recipe courtesy of Maria Zoitas, creator of 'Maria's Homemade' line of prepared food sold exclusively at Westside Market NYC www.wmarketnyc.com/