ITALIAN BEEF & PASTA TOSS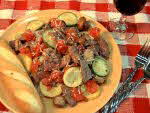 A great meal when you have no time to cook.
Prep Time: 10 minutes
Cook Time: 10 minutes
Servings: Serves 4

Ingredients:
~ 1 lb. beef tri-tip or sirloin steak, cut in 1/8 to 1/4 inch strips
~ 6 oz. uncooked vermicelli, or anglehair pasta
~ 1 jar (8 oz.) marinated mushrooms
~ salt and pepper, to taste
~ 2 small yellow squash or zucchini, cut crosswise into 1/4-inch slices
~ 1 can (14½ oz.) Italian-style stewed tomatoes, undrained
~ grated Parmesan cheese

Instructions:
Cook vermicelli according to package directions; keep warm.

Meanwhile remove 1 Tbsp. marinade from jar of mushrooms and heat in large nonstick skillet over medium-high heat until hot.

Add beef, half at a time, and stir-fry 1-2 minutes or until outside surface is no longer pink.

Do not overcook.

Remove from skillet with slotted spoon; season with salt and pepper. Keep warm.

In same skillet, combine mushrooms with remaining marinade, squash and tomatoes.

Cook over medium-high heat 6-8 minutes or until squash is tender and sauce is slightly thickened.

Combine pasta, beef and vegetable mixture; mix lightly.

Garnish with cheese.
Recipe courtesy of Texas Beef Council