BEEF, PASTA & ARTICHOKE TOSS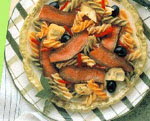 This cold pasta salad is a great luncheon feature or a summer supper star.
Prep Time: 30 minutes
Refrigerate: 2 hours or overnight
Servings: Serves 8

Ingredients:
~ 1½ lbs. beef sirloin steak or shoulder steak, cut 1 inch thick
~ 4 cups uncooked tri-colored rotelle (spiral-shapped) pasta
~ 1 can (14 ounce) quartered artichoke hearts, drained
~ 1 large red bell pepper, cut into julienne strips
~ 1 cup small pitted ripe olives (optional)
~ 2 Tbsp. thinly sliced fresh basil
~ 1/4 cup olive oil
~ 1/4 cup balsamic vinegar
~ 1½ tsp. dried basil leaves
~ 3/4 tsp. salt
~ 1/4 tsp. pepper

Instructions:
Place beef steak on rack in broiler pan so surface of meat is 3-4 inches from heat.

Broil steak approximately 16-18 minutes for medium-rare to medium doness, turning once.

Let stand 10 minutes. Trim fat from steak. Carve steak lengthwise in half and then crosswise into thin slices.

Meanwhile, cook pasta according to package directions. Drain and rinse with cold water.

In a large bowl, combine beef, pasta, artichoke hearts, bell pepper, olives, and fresh basil. Mix lightly.

In a small bowl, whisk together olive oil, vinegar, basil leaves, salt and pepper.

Pour over beef and pasta mixture. Toss to coat.

Cover and refrigerate at least 2 hours or overnight, if desired, before serving.
Suggestions: Serve with crusty bread and fresh fruit.
Tips: Beef can also be grilled.

Recipe courtesy of Texas Beef Council