TERIYAKI PORK KABOBS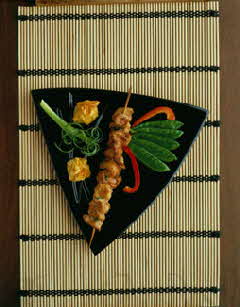 Serves 24

Ingredients
• 1 pound boneless pork loin, cut into 4x1x1/2-inch strips
• 1 11-oz. can mandarin oranges, drained
• 1 small green bell pepper, cut into squares
• 1/4 cup teriyaki sauce
• 1 tablespoon honey
• 1 tablespoon vinegar
• 1/8 teaspoon garlic powder
• 24 6-inch bamboo skewers

Cooking Directions
On bamboo skewers, thread pork strips accordion-style with the mandarin oranges. Add a green pepper piece to the ends of each skewer.

For sauce, in a small bowl combine the teriyaki sauce, honey, vinegar and garlic powder; mix well.

Brush sauce over kabobs.

Broil 6 inches from heat 5-6 minutes, turning and brushing with sauce occasionally.

Serve hot.

Serving Suggestions
These kabobs can be made ahead and kept in the refrigerator until ready to run under the broiler.
Nutrition Facts
Calories 35 calories; Protein 4 grams; Fat 1 grams; Sodium 123 milligrams; Cholesterol 10 milligrams; Saturated Fat 0 grams; Carbohydrates 3 grams; Fiber 0 grams

Recipe courtesy of National Pork Board. For more information about The Other White Meat, visit TheOtherWhiteMeat.com