ROAST BEEF N CHEESE QUESADILLAS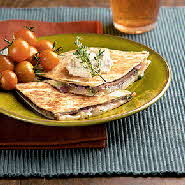 Makes 4 servings
Ingredients
• 2 ounces sliced lean roast beef
• 4 (8-inch) flour tortillas (soft taco size)
• 3/4 cup grated Cabot 50% Reduced Fat Cheddar (3 ounces)
• 2 tablespoons minced red onion
• 1 teaspoon minced fresh thyme
• 1/4 teaspoon ground black pepper
• Butter-flavored cooking spray
• 3 tablespoons horseradish sauce
• 8 small sprigs fresh thyme (optional)

Directions
1. Divide roast beef among 2 tortillas. Top each with half of cheese, onion, minced thyme and pepper. Press remaining 2 tortillas firmly on top. Lightly coat top and bottom of each quesadilla with cooking spray.

2. Heat 8-inch nonstick pan over medium-high heat. Add first quesadilla and cook, pressing down gently with spatula, until golden on underside, 3 to 5 minutes. Turn over and cook until golden on second side and cheese is melted, 3 to 5 minutes longer. Cut into 4 wedges. Cook and cut remaining quesadilla.

3. Serve each wedge topped with dollop of horseradish sauce and thyme sprig, if using.
Nutrition Analysis
Calories 196 , Total Fat 11g , Saturated Fat 2g , Sodium 592mg , Carbohydrates 15g , Dietary Fiber 6g , Protein 11g , Calcium 170mg

Recipe & photo courtesy of Cabot Creamery Cooperative
www.cabotcheese.com