SAUCY PIZZA POCKETS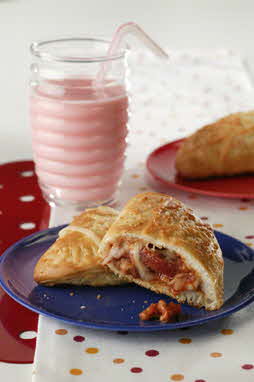 Makes 8 snack servings.

Ingredients
• 1/3 pound ground pork
• 1/4 teaspoon garlic salt
• 3/4 cup pizza sauce
• 1 16.3-ounce package refrigerated tube biscuits
• 2/3 cup shredded mozzarella cheese or pizza blend cheese
• 16 slices of pepperoni or Canadian-style bacon

Cooking Directions
Heat oven to 425 degrees F.

Place ground pork and garlic salt in large skillet over medium-high heat; cook for 5 minutes, stirring occasionally, until pork is no longer pink. Stir in pizza sauce and cook, stirring, until heated through.

Spray a large baking sheet with cooking spray.

Flatten each biscuit into a 4-inch circle.

Spoon 1 tablespoon of meat sauce onto one side of the biscuit. Sprinkle with 1 tablespoon of cheese and top with 2 slices of pepperoni or Canadian bacon.

Fold dough over the filling, forming a half-moon shape. Pinch edges to seal well. Place on the prepared baking sheet. Sprinkle with additional cheese if desired.

Bake for 10 minutes or until golden brown.

Serving Suggestions
These snacks are easy and fun for kids to prepare, but adults love them too. Keep the ingredients on hand. Serve with cold milk and celery and carrot sticks.
Nutrition Facts
Calories 270 calories; Protein 13 grams; Fat 14 grams; Sodium 860 milligrams; Cholesterol 25 milligrams; Saturated Fat 4 grams; Carbohydrates 25 grams; Fiber 0 grams

Recipe & photo courtesy of National Pork Board. For more information about The Other White Meat, visit TheOtherWhiteMeat.com