Spicy Grilled Short Ribs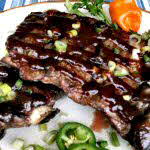 Servings: Makes 4 appetizer portions
Prep Time: 10 minutes
Cook Time: 10-12 minutes

Ingredients:
• 1½ lbs. well-trimmed beef short ribs, cut crosswise 3/8 to 1/2 inch thick
• 1/2 cup barbecue sauce
• 1/4 cup fresh lemon juice
• 3 jalapeno peppers, minced
• 3 Tbsp. green onions, minced
• salt and pepper, to taste

Instructions:
Combine barbecue sauce, lemon juice, jalapeno peppers and green onion. Reserve 1/4 cup marinade.

Place ribs in large plastic bag; add remaining marinade, turning to coat. Close bag securely and mariante in refrigerator 6 to 8 hours, turning occasionally.

Remove ribs from marinade; discard marinade.

Place ribs on grid over medium coals.

Grill 10 to 12 minutes, turning once, brushing with marinade. Season with salt and pepper.

Suggestions:
To reduce heat of jalapenos, remove ribs and seeds.

Recipe courtesy of the Texas Beef Council