Skillet Quesadillas Appetizers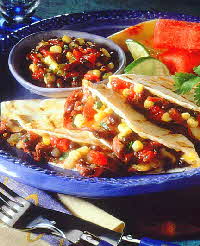 Beef from the deli makes this a super-quick meal.
Servings: Makes 4 main dish servings or 12 appetizers
Prep Time: 10 minutes
Cook Time: 5 minutes

Ingredients:
• 3/4 lb. thinly sliced deli roast beef or 1 package fully-cooked beef strips
• 1½ cups prepared thick and chunky salsa
• 1/4 cup chopped fresh cilantro
• 3 Tbsp. fresh lime juice
• 1 cup canned black beans, rinsed and drained
• 1/2 cup frozen whole kernel corn, defrosted
• 8 small flour tortillas
• 3 cups (12 ounces) shredded Colby-Jack cheese

Instructions:
In a medium bowl, combine salsa, cilantro and lime juice.

In a second bowl, combine 1/2-cup of the salsa mixture, beans and corn. Set aside remaining salsa mixture.

Layer 4 tortillas with 1½ Tbsp. cheese, 2 Tbsp. salsa mixture and evenly distribute beef between each of 4 tortillas.

Sprinkle 1½ Tbsp. more cheese over meat on each tortilla and top each with a plain tortilla. Spray tops with non-stick cooking spray.

Spray skillet with non-stick cooking spray. Heat skillet over medium-high heat.

Using a spatula place 1 quesadilla in skillet. Heat 2-3 minutes, until cheese just begins to melt and bottom of tortilla is lightly toasted.

Carefully turn quesadilla with spatula. Heat second side 2-3 minutes.

Repeat to cook each quesadilla.

Cut into wedges and serve with remaining salsa mixture.
Suggestions:
If black beans are large, slightly mash before adding to salsa mixture.

To serve as an appetizer or snack, cut each quesadilla into 3 wedges.

Recipe courtesy of the Texas Beef Council