SHREDDED PORK WITH ROASTED TOMATOES & CHIPOTLE PEPPERS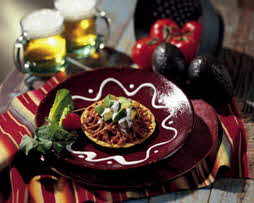 Makes 32 appetizers.

INGREDIENTS

Seasoned Pork:
• 2 pounds pork shoulder roast or 1½ pounds boneless pork shoulder roast, cut into 3-inch chunks
• 1 small white onion, quartered
• 2 cloves garlic, peeled and coarsed chopped
• 1 teaspoon salt

Roasted Tomato and Chipotle Sauce:
• 2 pounds plum tomatoes
• 1½ teaspoons canola oil plus additional oil for roasting tomatoes
• 1 small onion, thinly sliced
• 2 cloves garlic, minced
• 6 ounces Mexican chorizo, cooked, drained
• 1/2 teaspoon each ground cloves, cinnamon
• 2 teaspoons dried thyme
• 1½ ounces chipotle chiles in adobo sauce (about 2 chiles), pureed
• Salt to taste
• 32 small fried corn tortillas (tostaditas)
• 1/2 cup crema (Mexican cream)
• 1 ripe avocado, cut up

Cooking Directions
Place pork, onion and garlic in 2-quart saucepot; cover completely with water and bring to a rolling boil. Reduce heat and simmer for 1½ hours or until meat is tender.

Drain meat (discard garlic and onion). When cool enough to handle, remove bones, shred pork and store in refrigerator until ready to use.

Cut tomatoes in half and discard stems and seeds.
Place in shallow pan and brush with oil.
Roast in 375 degrees F oven 20 to 30 minutes or until tomato skins slip off easily.
Discard skins and chop tomatoes.

Heat oil in medium skillet.
Cook and stir onion and garlic over medium-high heat 3 minutes or until tender.

Stir in tomatoes, cover, reduce heat and simmer 5 minutes or until tomatoes are very saucy.

Add remaining sauce ingredients and shredded pork and simmer 2 to 3 more minutes or until mixture is well blended and heated through.

Serve hot meat mixture on tostaditas with crema and avocado.

Serving Suggestions
Simmer on the stovetop during the day and have ready as part of a buffet for the big game or next party.
Nutrition Facts
Calories 100 calories; Protein 6 grams; Fat 7 grams; Sodium 115 milligrams; Cholesterol 20 milligrams; Saturated Fat 2 grams; Carbohydrates 4 grams

Recipe & photo courtesy of National Pork Board. For more information about The Other White Meat, visit TheOtherWhiteMeat.com