SUSHI DI ITALIA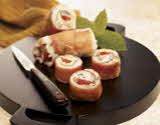 "Rice to the Rescue!" Recipe Contest Winner - Leah Lyon
Yield: Makes 16 servings (about 64 pieces).

Ingredients
• 3 cups cooked short or medium grain rice, cooled
• 1 cup grated Parmesan-Romano cheese blend
• 2/3 cup half and half
• 1/2 cup chopped fresh basil leaves
• 8-10 large thin slices prosciutto (cured Italian ham)
• 1 (7-ounce) jar roasted red peppers, drained and cut in strips

Directions
Combine rice, cheese, half and half, and basil in large bowl.

Place 1 prosciutto slice on cutting board; spread 1/2 cup rice mixture evenly over prosciutto, pressing slightly.

Arrange a few pepper strips lengthwise down center over rice; carefully roll into a log, about 8 inches long and 1 1/2 inches in diameter.

Repeat with remaining prosciutto slices; refrigerate 15 minutes.

Cut each roll crosswise into 1-inch pieces, placing on platter, cut side up, to resemble sushi.

Serve at room temperature.

Nutrition Facts
Calories 120; Total Fat 5g; Cholesterol 15mg; Sodium 440mg; Total Carbohydrate 11g; Dietary Fiber 0g; Protein 7g

USA Rice Federation (www.usarice.com)