SPICY PORK QUESADILLAS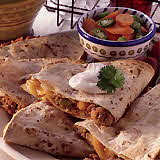 Makes 8

Ingredients
• 1/2 pound lean ground pork
• 1/4 cup diced onion
• 1 garlic clove, minced
• 1/4 teaspoon ground cumin
• 1/4 teaspoon dried oregano
• 1/2 jalapeno chile, minced*
• 1/4 cup chopped fresh cilantro
• 4 10-inch flour tortillas
• 1/4 cup grated Cheddar or jack cheese

Cooking Directions
In large nonstick skillet over medium-high heat, cook pork with onion and garlic until browned; drain off any drippings and remove to large bowl.

Stir cumin, oregano, jalapeno and cilantro into pork mixture.

Wipe out skillet with paper towel and heat over medium-high heat. Place one tortilla in skillet; top with half of the pork mixture, spreading evenly, and sprinkle with 2 tablespoons of cheese. Top with another tortilla and cook on one side until nicely browned (about 2-3 minutes), pressing down occasionally on top tortilla (using a spatula or, carefully, your hand).
Turn and brown the other side, remove to cutting board and cut into 8 wedges.

Repeat process to make 8 more quesadilla wedges.

Serve with salsa, if desired.

*Wear rubber gloves when handling hot chiles. servings.
Serving Suggestions
Kids 12 and older love making these savory tortilla sandwiches. Perfect for any party occasion, having a teenager man the skillet keeps the operation smooth---as each quesadilla is ready to cut into wedges, guests will be ready for more. These also make a perfect casual family supper.
Nutrition Facts
Calories 280 calories; Protein 18 grams; Fat 11 grams; Sodium 430 milligrams; Cholesterol 30 milligrams; Saturated Fat 4 grams; Carbohydrates 28 grams; Fiber 0 grams

Recipe & photo courtesy of National Pork Board. For more information about The Other White Meat, visit TheOtherWhiteMeat.com