Sloppy Joe Biscuit Cups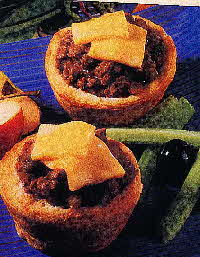 Kids will love this recipe.
Servings: Serves 4-5
Prep Time: 10 minutes
Cook Time: 25 minutes

Ingredients:
• 1 lb. lean ground beef
• 1/4 cup finely chopped celery
• 1/4 cup finely chopped onion
• 1/4 cup finely chopped green bell pepper
• 1/2 cup prepared barbecue sauce
• 1/4 tsp. salt
• 1 can (12 ounces) refrigerated flaky buttermilk biscuits
• 5 slices Cheddar cheese, quarted

Instructions:
Heat oven to 400°F. In large nonstick skillet, brown ground beef, celery, onion and bell pepper over medium heat 6 minutes or until outside surface of beef is no longer pink, breaking beef up into 1/2-inch crumbles.

Pour off drippings. Stir in barbecue sauce and salt.

Simmer, uncovered, 2-3 minutes stir occasionally.

Meanwhile place 1 biscuit into each of 10 ungreased standard-sized muffin cups press dough firmly onto bottoms and up sides of cups.

Spoon approximately 1/4-cup beef mixture into each biscuit cup.

Bake in 400°F oven 10-12 minutes or until edges of biscuits are golden brown.

Arrange 2 pieces of cheese on top of each biscuit cup. Continue baking 1-2 minutes or until cheese is melted.

Let stand 1 minute. Loosen edges of biscuit cups before removing from pan.
Suggestions:
American or Colby Jack cheese may be substituted for Cheddar.

Recipe courtesy of the Texas Beef Council