WEST COAST WINGS WITH TAVERN SAUCE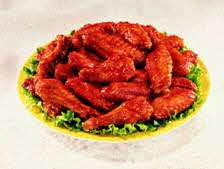 "The trick to my tasty and healthy wings is I boil them first," says Kevin Roberts. "That knocks off a lot of the fat and makes them nice and tender. Then you can throw them on the grill and get 'em nice and crispy."
Serves 4

Ingredients
• 1- 4 lb. bag frozen or fresh CHICKEN WINGS (try to get a combo of both wings and drumettes)
• 1/4 stick butter, melted
• 1 cup Frank's RedHot Original Cayenne Pepper Sauce – divided into ½ cup each for wings and sauce
• ½ cup barbecue sauce

Directions
1. Boil the wings in a large pot for 10 minutes. Drain water and excess fat from wings when done.

2. Grill wings on barbecue until crispy.

3. In a large bowl, add the butter and melt in microwave.

4. Add the cayenne pepper sauce and mix well.

5. When wings are nice and crispy, add them to the bowl and coat them well.

TAVERN STYLE SAUCE
ADD 1/2 cup barbecue sauce to the 1/2 cup cayenne pepper sauce and mix well. Then mix the wings in the Tavern sauce.

Recipe courtesy of French's Foods
Recipe Copyrighted by Kevin Roberts, The Food Dude, Munchies Cookbook, Storey Publishing 2004.