UDON NOODLES WITH BOURBON CHICKEN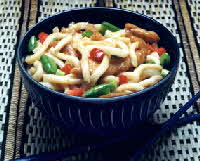 Servings: 8
Ingredients:
• 6- 7 ounce packages fresh udon noodles
• 4 whole boneless, skinless chicken breasts, cut into ½ inch julienne strips
• 1 cup brown sugar, packed
• 1/4 cup low sodium soy sauce
• 1 cup bourbon
• 2 cloves garlic, pressed
• 1 tablespoon fresh ginger, grated OR 1½ teaspoons ginger powder
• 1/4 cup olive or sunflower oil
• 1½ cups water
• 3 tablespoons corn starch
• 1 cup snow peas cut into half
• ½ cup chopped green onions
• ½ cup chopped red pepper

Directions:
Combine sugar, soy sauce, bourbon, garlic, ginger and oil. Add chicken to mixture and marinate 2 to 3 hours.

Drain marinade from chicken and put into a saucepan on the stove. Simmer approximately 5 minutes and then add dissolved cornstarch mixture. Stir constantly while adding cornstarch.

While marinade is simmering, cook the chicken on medium heat in skillet. Cook until all of the liquid is evaporated and the chicken is nicely browned. Combine with the thickened marinade

Combine peas, onions and red peppers in a microwavable bowl and cook on high about 1 minute or just until they are slightly soft (can be done ahead of time). Add to chicken.

Heat 1 gallon of water in a large pan on the stove and bring to a rapid bowl. Add noodles and heat 2 to 3 minutes until they are hot all the way through. Drain and add to cooked chicken and vegetable mixture. Serve immediately.

Nutrition:
One serving provides approximately: 827 calories, 39 g protein, 118 g carbohydrates, 1 g fiber, 11 g fat (1 g saturated), 68 mg cholesterol, 21 mcg folate, 3 mg iron, 1252 mg sodium,.

Recipe courtesy of the Wheat Foods Councill