SWEET POTATO ENCRUSTED CHICKEN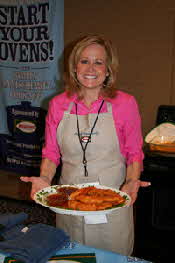 2007 Simply Manischewitz Cook-Off Grand Prize Winner Candace McMenamin

Ingredients:
• Manischewitz Extra Virgin Olive Oil Cooking Spray
• 1 box (6oz) Manischewitz Sweet Potato Pancakes
• 1 tsp Manischewitz Poultry Seasoning
• 6 piece Boneless, skinless chicken breast
• 1.5 cup Manischewitz apricot preserves
• 3 tbsp Manischewitz Premium Niagara White Grape Juice
• 1 clove Garlic, minced
• 1 item Jalapeno pepper, seeded and minced

Preparation:
Preheat oven to 350º. Prepare a 13-inch by 9-inch glass baking dish with cooking spray. Combine sweet potato pancake mix and poultry seasoning in a shallow dish. Dredge chicken breasts through mixture, turning to coast thoroughly. Place in prepared baking dish. Place in oven and bake for 30-40 minutes or until internal temperature is 175 degrees.

Meanwhile, in a small saucepan, combine apricot preserves, grape juice, garlic, and pepper. Cook over low heat until mixture is heated through. To serve: Place chicken breasts on serving platter. Drizzle ¼ cup sauce over breasts and serve remaining sauce on the side for dipping.

Recipe courtesy of Manischewitz