Sweet Southern BBQ Pulled Chicken Sliders
Lawry's Sweet Southern BBQ Marinade, beer, ketchup and brown sugar make a smoky sweet sauce for pulled chicken. Serve on biscuits topped with coleslaw for a Southern-style party appetizer.
Prep Time: 25 mins
Cook Time: 1 hrs
Serves: 12 (Serving Size: 1 slider)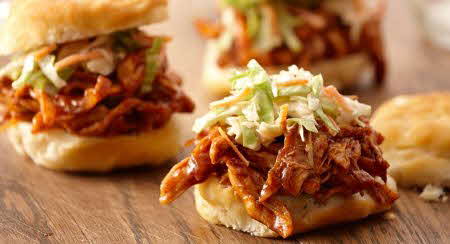 INGREDIENTS
· 2 pounds boneless skinless chicken thighs
· 1 medium onion, divided
· 1 cup beer, divided
· 1 cup Lawry's Sweet Southern BBQ Marinade with Lawry's Seasoned Salt
· 1/2 cup ketchup
· 1 tablespoon packed brown sugar
· 12 biscuits, split

DIRECTIONS
1. Preheat oven to 425°F.
Place chicken in 13x9-inch baking dish. Sprinkle with onion.
Mix 1/2 cup each beer and marinade in small bowl. Pour over chicken and onions.

2. Bake 1 hour or until chicken is cooked through and tender.
Cool chicken slightly then shred using 2 forks.

3. Meanwhile, mix remaining 1/2 cup each beer and marinade, ketchup and brown sugar in medium saucepan until well blended.
Bring to boil. Reduce heat to low; simmer 10 minutes.
Add chicken and onions; toss to coat well.
Simmer until heated through.
Serve chicken mixture on biscuits.

NUTRITION (amount per serving)
Calories: 205
Sodium: 825mg
Fat: 5g
Carbohydrates: 26g
Cholesterol: 70mg
Protein: 14g
Fiber: 1g

Recipe courtesy of McCormick & Company (www.mccormick.com )