SMOKY MOUNTAIN CHICKEN AND RICE CASSEROLE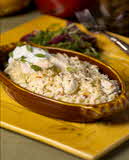 "Rice to the Rescue!" Recipe Contest Grand Prize Winner - Lisa Renshaw
Yield: Makes 8 to 10 Servings.

Ingredients
• Vegetable cooking spray
• 2 cups sour cream
• 1 (10¾-ounce) can condensed cream of chicken soup
• 2 chipotle peppers in adobo sauce, finely chopped
• 1 teaspoon salt
• 1 teaspoon pepper
• 3 cups cooked rice
• 2 cups shredded cooked chicken
• 2 cups shredded smoked cheddar cheese

Directions
Preheat oven to 400 degrees.

Lightly coat 13x9x2-inch baking dish with vegetable cooking spray.

In large bowl, stir together sour cream, soup, chipotles, salt and pepper until well blended.

Stir in rice, chicken and cheese.

Spoon into baking dish.

Bake uncovered in preheated oven 20 to 25 minutes, until edges of casserole are bubbly.

Turn oven to broil setting and lightly brown casserole.

Nutrition Facts
Calories 405
Total Fat 25g
Saturated Fat 72%
Polyunsaturated Fat 7%
Monounsaturated Fat 34%
Cholesterol 88mg 29%
Sodium 769mg 32%
Potassium 7%
Total Carbohydrate 22g 7%
Dietary Fiber 1g 2%
Protein 22g

USA Rice Federation (www.usarice.com)