STRAWBERRY BUTTERMILK SHORTCAKE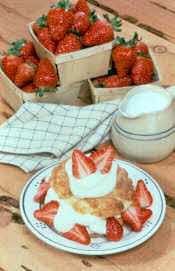 California Strawberries. The Ripe Ingredient.
Yield: 6 servings.

Ingredients:
• 2 cup flour
• 1/4 cup sugar
• 1 tablespoon baking powder
• 1 teaspoon baking soda
• 1/4 teaspoon salt
• 1/2 cup butter or margarine
• 1/2 cup buttermilk
• 1 teaspoon grated lemon peel
• 2 eggs, divided
• 2 pint baskets fresh California strawberries, stemmed and sliced
• 1 cup whipping cream, whipped and sweetened

Directions:
In large bowl combine flour, sugar, baking powder, baking soda and salt. Cut in butter until mixture resembles coarse meal.

In small bowl blend buttermilk, lemon peel, 1 whole egg and 1 egg yoke. Stir into flour mixture to make a soft dough.

Divide dough into 6 equal portions. On floured board pat each into a 3-inch circle. Place on greased baking sheet. Brush generously with remaining egg whites, beaten. Sprinkle generously with additional sugar.

Bake in 450-degree oven 10 to 12 minutes until golden Remove from pan; cool on rack.

Sweeten strawberries, to taste. Slice each shortcake in half horizontally with a sharp knife. Fill and garnish with strawberries and whipped cream.

Nutritional Information:
450 calories; 8g protein; 25g fat; 50g carbohydrate; 102mg cholesterol.
Recipe Courtesy of the California Strawberry Commission