PORK TENDERLOIN SATAY WITH BRANDY PEAR RELISH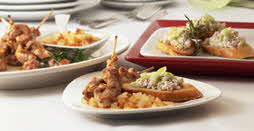 Makes 16 to 18 appetizer servings.
Ingredients
• 1 can (15.25 oz.) Bartlett pears in heavy syrup
• 1/2 cup apricot preserves*
• 1/4 cup finely chopped white onion
• 2 tablespoons brandy
• 1 teaspoon finely chopped or grated fresh ginger
• 1/4 teaspoon red pepper flakes
• 1 pork tenderloin (about 1 lb.), partially frozen
• 1/4 cup golden raisins (optional)
• 16 to 18 (6-inch) wooden skewers soaked in water for at least 30 minutes**

Cooking Directions
To make relish, drain pears, reserving juice; chop and set aside.
Pour pear juice into 1-quart saucepan; stir in preserves, onion, brandy, ginger and red pepper flakes. Bring to a boil, stirring occasionally. Boil gently for 8 to 10 minutes or until liquid is reduced and slightly thickened.

Remove from heat; allow mixture to cool to room temperature.

Meanwhile, using a sharp knife, slice pork tenderloin into 1/4-inch-thick medallions; place in a resealable plastic bag. Pour about 1/2 cup cooled juice mixture over pork in bag; seal and refrigerate for at least 30 minutes.

Gently stir together chopped pears, remaining juice mixture and raisins; refrigerate until serving time.

When ready to cook, spray broiler pan with cooking spray and preheat broiler.

Discard the marinade. Thread pork medallions onto skewers. Place pork skewers on broiler pan about 7 inches from broiler. Broil for 3 minutes per side. Serve with Brandy Pear Relish.
* If apricot pieces are too large, use kitchen shears to cut into small pieces.
** Soaking wooden skewers in water helps to keep them from charring under the broiler.
Serving Suggestions
Enjoy these appetizers as part of a party buffet. Simple to prepare the pear relish before.
Nutrition Facts
Calories 99 calories; Protein 6 grams; Fat 2 grams; Sodium 19 milligrams; Cholesterol 14 milligrams; Saturated Fat 0 grams; Carbohydrates 6 grams; Fiber 2 grams

Recipe & photo courtesy of National Pork Board. For more information about The Other White Meat, visit TheOtherWhiteMeat.com